A Very Special Egg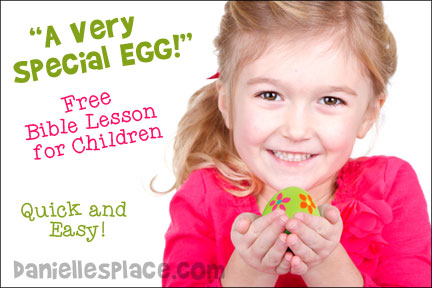 This lesson is available to members on The Resource Room
Bible Reference:
Luke 23- 24
Teaching Concept:
Jesus died on the cross, but he came back to life again proving he is the Son of God. He died to pay for our sins because he loves us and wants us to live forever in heaven with him.
Early Arrivals Activity
Make Paper Lunch Bag Easter Baskets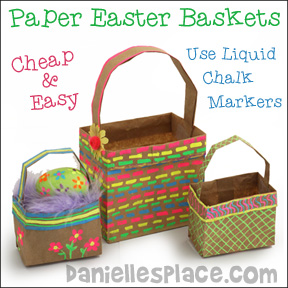 How to Make the Paper Bag Easter Baskets:
1. Cut the top quarter off of the bag.
2. To make the baskets, carefully fold down the top one inch and then one inch again.
3. Use the cut off top part of the bag to make the basket handle. Cut it so it is in a long strip and then fold it into a long thin strip. Cut the strip to the length you want for the handle and glue it to the basket.
4. Use decorative items to embellish the basket such as flower, buttons, and lace.
Have an Easter Egg Hunt
Place prizes such as stickers, small toys, or candy in large eggs and hide them around the room.
As your children arrive ask them if they have ever been on an Easter egg hunt, if they like to hunt for eggs, and what they like about it. Tell your children that they will be hunting for eggs as soon as all the children arrive. Before they start the hunt tell your children that they may only find one egg. Remind them that once they have found an egg; they must sit down and let the other children find an egg.
Early Arrivals Activity
Preparation: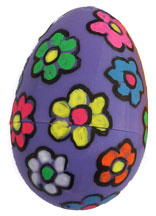 Decorate one large egg with Craftycroc Liquid Chalk Markers or use a golden egg.
Lesson
After all the children have sat down and have opened their eggs say the following:
Isn't it fun to hunt for eggs and open up the eggs to see the surprises inside?
I have one more egg that hasn't been opened. It is a very special egg. (Hold up the very special Easter egg.)
Isn't this a beautiful egg?
(Hold the egg to your ear and shake the egg a little.) What do you think might be in this egg? Let your children give their ideas – candy, prize.)
There is something very special in here, but before I show you what is in this egg I want to tell you a story about a woman who had a very special surprise. (Open your Bible to the story reference.)
Mary was very sad because her people had killed her son, Jesus. She had a hard time understanding why they wanted to kill him because he had never done anything wrong; and had helped so many people. He raised the dead, He healed the sick, and healed people's broken hearts. Thousands of people followed him where ever he went, longing to hear the amazing words he had to say.
But one day it all went bad. She had heard that they had arrested her son for saying he was the Son of God. And when they brought him and another criminal before the people, the people shouted to let the criminal go and to crucify (kill) Jesus. So the soldiers hung Jesus on a cross and killed him.
Later a good man named Joseph took Jesus' body down, wrapped it in cloth and placed it in a tomb.
Three days later Mary and some other women went to the tomb, but were very surprised when they saw that the stone covering the entrance to the tomb had been rolled away. They went into the tomb and found that it was empty. They wondered where Jesus' body could be. Suddenly two men in clothes that gleamed like lightening stood beside them. The women were so frightened that they fell to their knees. The men asked, "Why do you look for the living among the dead? He is not here; He has risen!
Mary and the other women ran and told the disciples what they had seen. After that Jesus appeared to hundreds of people before He went up to heaven.
Isn't that a wonderful story?
(Hold up the egg again.) I promised that we would find out what is in this beautiful, special egg after the story. Are you ready?
(Open the egg and show the empty inside.)
There is nothing inside this egg! This is a very special egg because it reminds us that there was nothing inside the tomb. It reminds us that Jesus had come to life again like he had promised. And, that because Jesus died on the cross, and rose again, we can live again in heaven. Jesus paid for all of our sins when he died on the cross. The Bible tells us that the wages of sin is death, but since Jesus died for our sins, we can be forgiven of our sins when we are sorry and ask God for forgiveness.
Discussion
How did you feel before you opened the egg you found during the Easter egg hunt?
How did you feel when you opened the egg?
How did you feel when you saw the very special egg?
How did you feel when the egg was opened and you saw that there was nothing in it?
How do you think Mary felt when she found out Jesus was arrested? Sad, scared, confused.
How do you think Mary felt when they killed her son? Sad, confused.
How do you think Mary felt when she went to the tomb and Jesus wasn't there? Confused, scared, mad.
Why is the empty egg so special?
Craft
Decorate an Empty Easter Egg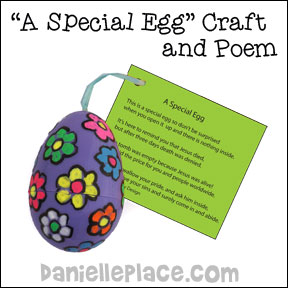 What you will need:
Liquid Chalk Markers or Stickers
Large Plastic Eggs with Holes at the Top
Very Thin Ribbon
Colorful Paper or Card Stock
Hole Punch
What to do:
1. Before class print out the poems onto colorful paper and cut them apart. Use a hole punch to punch holes in the corners. (Instead of using the poem, you could print out the Bible verse on a card.)
Members

Instant Download Pattern $2.00 -


2. Cut ribbon about 6" long so that there are points at each end. Poke the ribbon through the tiny holes from the inside to the outside. Pull the ribbon through the holes and tie the poem card to the ribbon.
3. In class have your children decorate the eggs with liquid chalk markers. If you have very young children, you can use stickers instead. (The liquid chalk markers are not permanent. The chalk can easily be washed off with water; and rubbing the egg can remove the chalk. Tell your children the decoration is not meant to be permanent. They should remove the chalk each year and decorate them anew to help them remember the importance of the empty egg.)
A Special Egg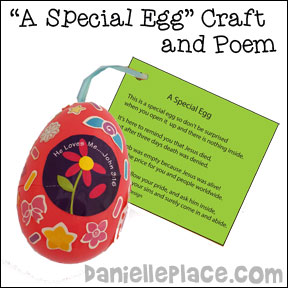 (Do not reprint this poem on the Internet. It is copyrighted.) If you use this poem, please include the copyright notice.
This is a special egg so don't be surprised
when you open it up and there is nothing inside.
It's here to remind you that Jesus died,
but after three days death was denied.
The tomb was empty because Jesus was alive!
He paid the price for you and people worldwide.
So, if you swallow your pride and ask him inside,
He will forgive your sins and surely come in and abide.
©2015, Digital by Design, Inc.
Games
Using the Bible verse "Saying, The Lord is risen indeed, and hath appeared to Simon." Luke 24:34, play one or more of the Easter Egg Bible Games from the Easter Egg Bible Games Page.