Pangolin Crafts and Learning Activities
How to Make Crafts and Activities Relating to Pangolins
Rolling Pangolin Craft for Kids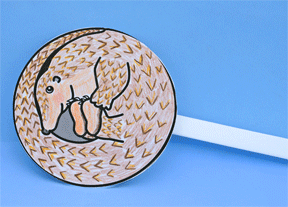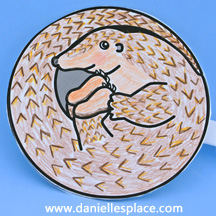 "Roly Poly Pangolin" by Anna Dewdney
Roly Poly is a tiny pangolin that is afraid of everything new. When he is frightened he rolls into a ball hiding from the world. One day while hiding he hears a tiny call and opens his eyes just a crack and sees another pangolin peeking back. They become friends and are able to face the world together much better.
This is a fun craft to go along with the book.
Children will enjoy making and playing with a rolling pangolin of their own. It is made with a small paper plate, card stock, and a brass brad.
Member's

© 2012, Digital by Design, Inc. - See Copyright Information
Pangolin Books and Toys