Nursery Rhymes and Fable Crafts and Learning Activities
How to Make Crafts and Learning Activities Relating to Popular Rhymes and Fables
Mary Had a Little Lamb Craft Stick Puppets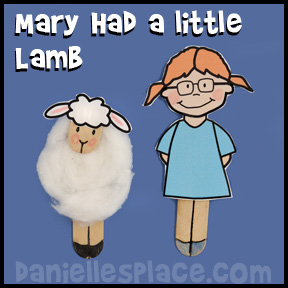 How to Make the Mary and Lamb Stick Puppets:
1. Print out patterns or draw the sheep head and a Mary figure and make copies.
Member's

2. Have your children color the Mary pattern.
3. Cut a jumbo craft stick three inches in length with a pair of strong scissors. Glue the Mary figure onto the craft stick. Draw a line down the center of the craft stick to make Mary's leg. Color the bottom for her shoes.
4. Cut another jumbo craft stick three inches long and glue a cotton ball to cover the cut end of the stick. Use a marker to draw in the legs and hooves. Cut another jumbo craft stick 1 1/4" inch long or use the template on the pattern. Glue the ears and top of the head to the craft stick. You can glue a small amount of cotton to the top of the head. Glue the head to the cotton ball.
5. Use these puppets with the "Mary Had a Little Lamb" Printable Book below.
Copyright 2013, Digital by Design, Inc. - See Copyright Information
Mary Had a Little Lamb Printable Book with Craft Stick Puppets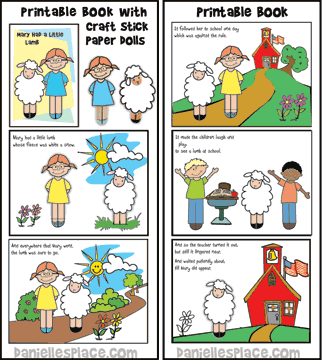 With six colorful pages your children will enjoy reading this rhyme over and over.
An alternative first page can be used that doesn't have the pictures of Mary and her little lamb. The stick puppets can be inserted into the slots on the page to store them.
Children can make up their own rhymes and stories using the stick puppets or make their own puppet skits.
The Printable Pages are available to members.
Member's

The stick puppet patterns for this book can be found above.