Sloth Crafts and Learning Activities
How to Make Crafts and Learning Activities with a Sloth Theme
Sloth Mom and Baby Paper Plate Craft
This adorable mama sloth holding a baby sloth craft is made with dinner-sized and snack-sized paper plates.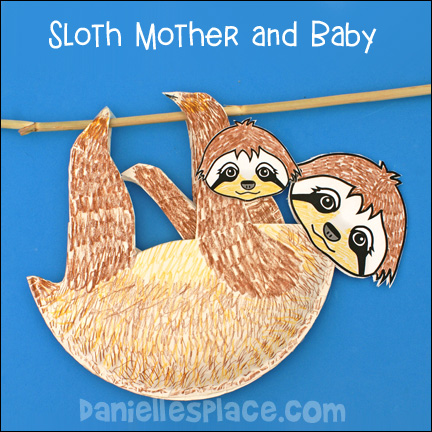 What you will need:
Card Stock (Heavy Paper)
Dinner-sized (9-inch)
Snack-sized Paper Plates (6-inch)
Colored Pencils or Crayons
Glue
Scissors
How to Make the Paper Plate Sloths:
1. Print out the body and head patterns onto card stock, cut them out, and color them. There are two head patterns for each sloth. There are two head patterns for each sloth - one for the front of the sloth and one for the back. They are numbered 1 and 2.
Member's

Instant Digital Download -

2. Use the body patterns as a template to cut from paper plates. Place the large body pattern on a 9-inch paper plate and the small body pattern on the 6-inch paper plate so the feet are at the edge of the plate and the rest of the pattern fits on the plate. Part of the pattern is missing because it doesn't fit on the paper, but it is not necessary if you place the feet at the edge of the plate. Trace another pattern on the opposite side of another plate or turn the pattern over and trace on the same side of another plate. You want the pieces to match up to make a 3-D sloth with an opening in the stomach.
3. Glue the body pieces together around the edge of the paper plate.
4. Glue the heads to the paper plate bodies. Glue one head to the front and one to the back matching them up.
5. Slip the baby sloth inside the mama sloth and glue her toes together.
Copyright 2012, Digital by Design, Inc. - See Copyright Information