Sock Monster Crafts and Learning Activities for Children
How to Make Sock Monster Crafts
Free Sock Monster Match Card Game
Children of all ages will love this game. Match up the socks and try to figure out which sock the sock monster ate, but be careful that the monster doesn't eat you!
What to do:
Print out the card patterns onto card stock (Heavy paper) and cut them out.
Member's

Free

How to play:
1. Remove the two sock monster cards, place all the cards in a pile and mix them up. Remove one card from the pile without looking at it and place it to the side. Replace the sock monster cards and mix them up again.
2. Place the cards (except the one you placed aside) face down in rows in the middle of the table without looking at them.
3. Players take turns turning over two cards trying to find socks that match. If a player gets a match, he keeps the cards and takes another turn until he doesn't make a match. Then the next player takes a turn.
4. If a player turns over one sock monster during his turn, he may try to guess what sock the monster ate (the card that was removed from the deck) by describing the sock. If the player guesses, he then turns over the card that was placed aside at the beginning of the game to see if he is correct. If he is correct, he receives 40 extra points, and the game continues until all the cards have been picked up. If he is wrong, he loses all his points, and that round is over.
5. If a player turns over both sock monster cards on his play, that round is over and that player loses all his points. Collect all the cards, add up the scores for that round, and start another round. Players receive 10 points for each card they collect.
6. Keep playing rounds until one player reaches 200 points.
©2000, Digital by Design, Inc. - See Copyright Information
Sock Monster Sock Dolls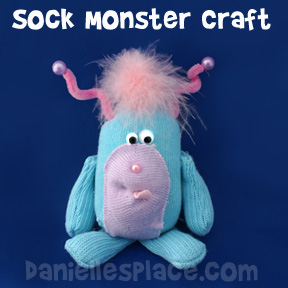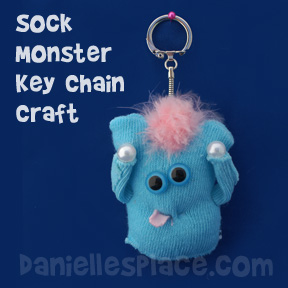 Learn how to make each sock monster out of children's socks.
Go to the Sock Crafts and Learning Activities Page for directions and patterns.
Milk Jug Sock Monster Sock Caddy Craft for Kids
These cute little sock monsters are great for storing your missing socks and things you pull out of pockets before washing clothes.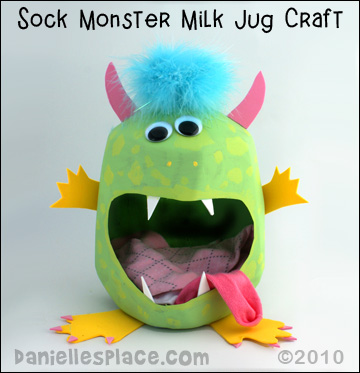 What you will need:
Plastic Milk Jug
Craft Foam
Low-temp. Glue Gun
Scissors
Acrylic Paint
Googly Eyes
Feather Boa
Pompom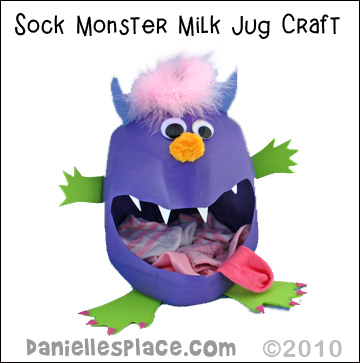 How to make:
1. Wash out and let your milk jugs dry.
2. Cut a hole in the jug on the two sides opposite the handle of the jug for the mouth.
3. Spray paint or use acrylic paint to paint the entire jug.
4. Glue a piece of feather boa to the lid of the jug for hair.
5. Cut feet, arms, teeth and horns from craft foam and glue to the jug as shown.
6. To finish glue on googly eyes.