Who We Are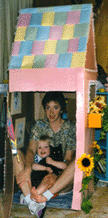 Danielle's Place of Crafts and Activities has been online now for close to 20 years. When I first started this site I had no idea it would turn into the site it is today. I just wanted to share some of my ideas with others, and the Internet seemed like the best way to do it.
When I started teaching Sunday school I was often disappointed with the curriculum and activity ideas given so I started coming up with my own craft ideas. I wanted to use crafts and activities that reinforced the lessons and were easy and cheap to prepare. When I saw that children enjoyed the crafts and activities and were learning from them, I wanted to share them with other Sunday school teachers who were in the same situation. I received such a good response that I have continued to create, with God's help, new lessons and crafts. Eventually it became a full-time job, and Danielle's Place of Crafts and Activities became our business.
Many of the crafts, activities, and lessons found on The Resource Room were created for my Sunday school classes and my daughter throughout the years. I also home schooled for about two years and developed educational games and activities that I used to teach my daughter Danielle.
My husband, Ed, takes care of the technical parts of this web page while I take care of the creative end. Danielle also helps with some of the crafts.
This site is dedicated to Danielle's grandmother, Grandma Jo, without whose help we couldn't have done it. She has always been there for us when we needed her both financially and with great advice. We appreciate her counsel and her concern.
This site is also dedicated to my mother and father who brought me up in a Christian home. A special thanks to my mother who would load all six of us girls into the station wagon every Sunday for many years and take us to church before my father started attending.
Although we didn't have a lot of material possessions, we had what was important and always felt blessed. God gave us the creative ability to find and make things out of just about anything. I have found through the years that it is not always a blessing to have a lot of wealth and material possessions. If you do, you don't learn to rely on God and the abilities he has given you to create your own fun and cherished memories.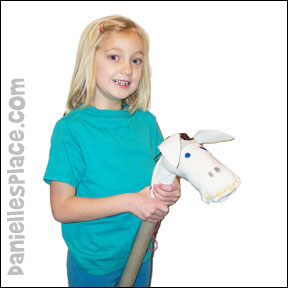 Danielle holding a sock horse she made.
It is my hope that you and your family will create some of your own great memories while doing some of these projects.
Carolyn Warvel
Webmaster