Animal Tracks aned Paw Print
Crafts for Children
Crafts and Learning Activities Related Animal Tracks and Paw Prints Including: Animal Tracks Match Up Coloring Sheet, Animal Tracks Plaster Casts, Paw Print Crafts, Paw Print Poem, and Paw Print Frames
Free Animal Tracks Match Up Color Sheet
Here's a great craft activity and work sheet for animal and nature lovers of all ages.
Animal Track Match Up Color Sheet
Print out the sheet, color the animals and draw a line from the animal to the kind of track it would leave. If you need help with this sheet you can use the links below to find the answers.
©2000, Digital by Design, Inc. - See Copyright Information
Links to Animal Track Sites:
Animal Tracks Plaster Casts
What you will need:
Plaster of Paris (found at crafts stores)
Bottle of water
Plastic spoons
Paper towels
A plastic container or paper cups to mix the plaster
A small trowel or something to dig with
Paint
Backpack to carry everything in
How to Make Animal Tracks Plaster Casts: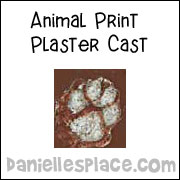 1. Find a good animal track in soft mud that has dried enough to keep it's shape when you press on it lightly.
2. Lay out all your supplies. Depending on how big your track is, pour about 3/4 cup of plaster into the plastic container, quickly stir in water until the plaster is thin enough to pour yet not too runny. Tap on the edge of the container to get out most of the air bubbles. Do this quickly because the plaster begins to set with in a few seconds.
3. Carefully pour the plaster mixture into the track. Let the plaster set for at least 1/2 an hour.
4. When the plaster in firm, carefully dig under the cast and lift it up. Take it home and let it dry overnight.
5. When the plaster cast is completely dry clean it off with a brush. You may want to paint the cast to make the tracks stand out better.
How to Print or Copy these Instructions.
©2000, Digital by Design, Inc. - See Copyright Information
Great Books About Animal Tracks:
"Tom Brown's Field Guide to Nature Observation and Tracking" by Tom Brown, Jr.- You can probably find this book in the Library.
Paw Print Crafts for Kids