Crafts and Learning Activities for the States of the US
Learn about each of the United States of America through crafts and activities, internet sites, and great books
Alaska

Alaska - (Crafts relating to Alaska) - Make pop bottle snowflakes, a paper bag moose, a moose bookmark, a pencil holder, a 3D stand up moose, a moose puppet, a paper plate puffin, a polar bear dessert dish, or a folded polar bear. Or you can make a 3D mosquito or a flyswatter picture.
Hawaii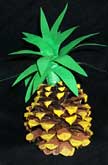 Hawaii - (Crafts relating to Hawaii the Aloha State) - Make a lei and pinecone pineapples and use them to throw a luau.
Maine
Maine - (The Pine Tree State): Make a poster with sample's of Maine's natural resources, maps, and other items. Make a lighthouse from cardboard. Read books about Maine and put on a Moose puppet show.