Crafts and Learning Activities for
the States of the US
Learn about each of the United States of America through crafts
and activities, internet sites, and great books
Alaska

Alaska - (Crafts relating to Alaska) - Make pop bottle snowflakes, a paper bag moose, a moose bookmark, a pencil holder, a 3D stand up moose, a moose puppet, a paper plate puffin, a polar bear dessert dish, or a folded polar bear. Or you can make a 3D mosquito or a flyswatter picture
Hawaii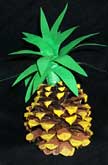 Hawaii - (Crafts relating to Hawaii the Aloha State) - Make a lei and pinecone pineapples and use them to throw a luau.
Maine
Maine - (The Pine Tree State): Make a poster with sample's of Maine's natural resources, maps, and other items. Make a lighthouse from cardboard. Read books about Maine and put on a Moose puppet show.
Nevada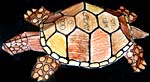 Nevada - (Silver State) - The desert bighorn sheep is Nevada's state animal and the desert tortoise is it's state reptile. Both of these animals thrive in the dry, rocky climate found in Nevada. You will find crafts for both these animal's on the State of Nevada Page.
Texas

Texas - (The Lone Star State) - This cute little armadillo is fairly easy to make. It is made from a pop bottle and fun fun. Just cut out the patterns and glue them to the pop bottle. (Coming Soon)
Other Web Sites:
1. Online Puzzle with State Nicknames at Scholastic's web site.
United States Books and Puzzles