Noah Bible Crafts Page 2
Craft and Activities Relating to Noah and the Ark Bible Lesson
"God Keeps His Promises" Rainbow Bible Verse Holder Craft
Cheap and easy to make! Cost only pennies!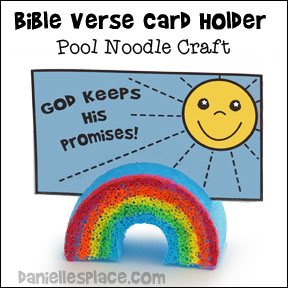 What you will need:
Serrated Knife (Bread Knife)
Paper or Card Stock
Colored Pencils
Paper Glue
Ruler
What to do:
1. Use a ruler to mark off 1 1/4" section on the pool noodle.
2. Cut the pool noodle at each mark with a serrated knife making donut shapes. Then cut the donut shapes in half to make rainbow shapes.
3. Cut a slit at the top of the rainbow shape lengthwise across the center of the rainbow about 1/2" deep. Use this slit to hold Bible verse card.
4. Use liquid chalk markers to color the rainbow on the front of the rainbow shape.
5. Print out a Bible verse card or have your children colore them, and then place them in the slit at the top of the rainbow.
(The pattern for the Bible verse card pictured above is available to members on The Resource Room. It is available in color or black and white and has the memory verse on the back of the card.)
Member's

Noah's Ark Rainbow Display Craft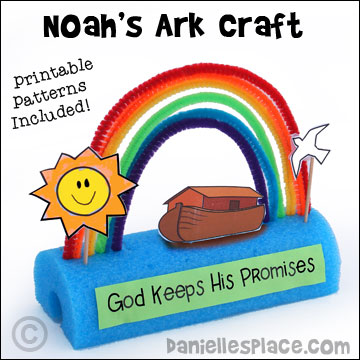 What you will need:
Chenille Stems - (Pipe Cleaners) - Red, Orange, Yellow, Green, Blue and Purple
Card Stock
Colored Pencils
Toothpicks
Tape or Glue
Permanent Markers
Bread Knife
Ruler
Scissors
How to Make the Noah's Ark Rainbow Craft:
1. Before class cut the pool noodles into 6-inch lengths and then cut them in half lengthwise.
2. Print out the paper patterns onto card stock and cut them apart.
Member's

Instant Download Pattern - One Page - $2.00

3. In class have your children color the patterns, cut them out and glue or tape them to the end of toothpicks.
4. Show them how to bend the Chenille stems and stick them into the foam. Start with the outside red Chenille stem and stick each end in one end of the noodle to make an arch. Place the other Chenille stems right next to the other craft stems working from the outside in. You will have to cut the inside stems shorter in order to fit them in the arch. You may want to pre-cut them. Make one sample craft and use the stems from it to know how long to cut the stems.
5. To finish glue the Bible phrase on the front of the display and stick the pictures into the foam. Children may want to color part of their noodle with markers to look like dry ground where the ark came to rest.
©2015, Digital by Design, Inc. - See Copyright Information
Noah Crafts on Other Pages