David Bible Crafts and Activities for Kids
How to Make Crafts and Activities Relating to David, Goliath and King Saul
David and Goliath
Some of the Following Crafts come from the Free Sunday School Lesson for Children - "David Take a Dare"
David and Jonathan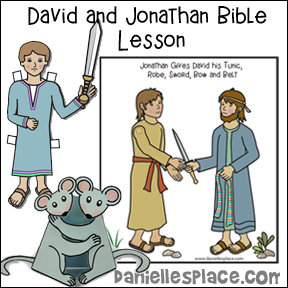 See David and Jonathan - Friends Share Bible Lesson Page
David Helps King Saul
See David Helps King Saul Bible Crafts Page for craft and activity ideas.
©2001, Digital by Design, Inc. - See Copyright Information
My husband and I pastor Church in a country town of about 7,500 people in Victoria, Australia. I have just come across your web site and would like to say THANK YOU very much for the effort that you have put in, and the wonderful resources that you have provided on there. Our Church has about 20 people with 10 children ranging from 1 month - 9 years, so as I am sure you can understand due to our size we don't have a lot of money for resources, so when I came across your site I just had to let you know what a blessing your gifting is not only to those that you are in direct contact with but also those who will benefit from your generosity of your web site. Thank you again. May God Bless You, Your Family and Your Ministry Abundantly. Yours Also In Christ's Service, Samantha
David Hides From King Saul
Under His Wings
"You are a Sun and Shield" Coloring Sheet - Psalm 84:11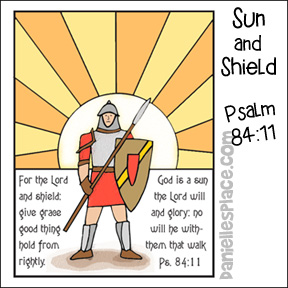 Your lessons are always a joy - cheerful, simple, complete, enchantingly fun and easy to prepare and clean up. I tell everyone about this website. Have a great day and thanks for blessing us with your knowledge and creativity.
I just wanted to let everyone know that I love you website! I have been searching for so long for things to do with my kids in Sunday School that fit them. It's a really hard thing to do when you have ages 3 and under! Your website is perfect because there is a lot to pick from for different ages! Just perfect for me! I just got my membership yesterday and I just had to get up and see if I had access yet! Thank you so much! You don't have to write back, I just wanted to share my joy and thanks with someone on your end! Heather