Cow Crafts for Kids - 2
How to Make Crafts Relating to Cows
Cow and Horse Plant Stake Craft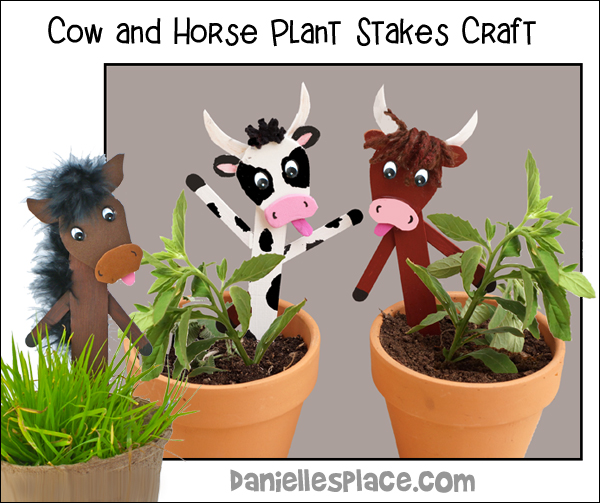 What you will need:
Craft Eyes
Feather Boa (Horse)
Brown Yarn (Cows)
Mini-Craft Sticks or Regular-sized Craft Sticks
Craft Foam (If you are using them outside. You can use cardboard if you are using them inside.)
Paper
How to Make the Foam Cow and Horse Plant Stakes:
1. Use two mini-crafts sticks or cut a regular-sized craft stick in half to make the horse's legs. Paint all the craft sticks and let them dry. When they are dry, glue them together as shown in the picture.
2. Cut the head shape, muzzle, tongue, horns, and ears from craft foam, and glue them together. You can use colored craft foam or paint the craft foam with acrylic paint.
Member's

Instant Digital Download

3. Glue a six-inch piece of the feather boa to the top of the head and to the back of the horse plant stake so that it shows on one side.
4. Glue yarn to the top of the head of the cow.
5. To finish paint spots on the cow and glue on the eyes.
©2010, Digital by Design, Inc. - See Copyright Information
Also See Cow Crafts Page 1