Crafts and Learning Activities Elements of Design - Line
Including: Pointillism Printable Sheet, Point and Dot Activities for Children, Books about Point and Dot
A Line is the Path Between Two Points. Lines can be straight, curved, vertical, horizontal, diagonal, or zigzag. Lines come in all different sizes, lengths, weights, and directions. The characteristic of a line such as thickness and direction, can create emotion. Horizontal lines can imply restfulness, peace, calm and quiet such as a landscape picture or sunset picture. Vertical lines can ignite a feeling of awe, strength or power. Diagonal lines give us a feeling of motion.
"Art" by Patrick McDonnell
Art - There's no stopping Art when he is inspired. He creates art using zigs, zags, scribbles, squiggle, dots, splotches, blotches, and curly cues.
Creative Activities:
1. Visit the Author's Web Site and hear him read the book and Learn More About Him.
"ish" by Peter Reynolds
Ish - Ramon loves to draws - anytime, anything, and anywhere. But when his older brother laughs at his drawings Ramon gets very angry and throws away all his work.
He doesn't give up, but keeps trying to make his drawings look "right". When he realizes he can't do it, he finally gives up. His little sister sees him crumple up his last drawing and throw it on the floor. When she tries to talk to him, he yells at her to go away. She runs away, but picks up the crumpled drawing before she leaves, prompting Ramon to race after her to get his paper back.
He follows her into her room where he discovers that she has all his crumpled drawings displayed on her wall. She points out her favorite and Ramon says, "It's supposed to be a vase of flowers, but it doesn't look like one."
His little sister says, "Well, it looks vase-ISH!" which makes Ramon see his pictures in a whole new light. He begins to think ish-ly and draws without worrying about making them look exactly right freeing him to be more creative.
1. Link to PDF file of Classroom Ideas and printable for the book "Ish" - scroll down the page.
"Dots Can Do a Lot - All About Lines" Itty Bitty Book

Print out the Itty Bitty Book Patterns, cut around the pages, but do not cut the pages apart. To assemble the books go to this page for directions. Read the book to your children and then ask if they would like to illustrate their own Itty Bitty book.
Member's

"A Dot Can Do a Lot!, All About Lines"
Written by Carolyn Warvel
Look at the picture. What do you see?
A simple dot that says, "Look at me!"
But when a dot decides it's time to go.
It makes a line that is sure to grow.
A dot that curves and makes a loop
Makes a line that looks like a hoop.
An excited dot that jumps up and down
Makes a zigzag line that looks like a crown.
A dot that goes straight up and to the right
Makes a diagonal line that disappears out of sight.
A dot that goes straight up and to the right
Makes a diagonal line that disappears out of sight.
A dot that starts off slow then takes off fast
Makes a tapered line. What a show!"
When a dot decides to go straight up and down
It makes a vertical line like the one that's brown.
Lots of dots that all walk in a row and then bend like a bow
Make a line that looks a lot like a toe.
A yellow dot that goes from left to right
Makes a horizontal line that is quite bright!
Parallel lines are two dots that travel side by side,
going in any direction, but never collide.
Extra Pages
Some dots make invisible lines
that we can see only in our minds.
There are paths that lead the right or wrong way
You must choose the one you will walk every day.
The path that leads to peace is narrow,
smooth, and straight as an arrow.
The wrong path will lead you astray,
Ask God, and he will teach you his way.
"Shew me thy ways, O Lord; teach me thy paths." Psalm 25:4
Back Cover
Dedicated to Paul Klee who said: "A line is a dot that went for a walk."
©2012, Digital by Design, Inc. - See Copyright Information
"Doodle Cook" by Hervé Tullet
Doodle Cook by Hervé Tullet
Hervé Tullet uses scribbles, doodles, and shapes to make recipes such as: scribble delight, triangle cake, colorful pasta salad, zigzag soup, beautifully shaped kebabs, dot stew, hand salad, etc. Children follow the recipe directions to draw illustrations for the recipes in the book.
Watch Hervé Tullet discussing the "Doodle Cook" on Youtube.
"The Scribble Book" by Hervé Tullet
Children actually draw in this book to complete the pictures. They feed scribbles to a hungry monster, draw dust so the vaccuum doesn't get bored, and scribble over monsters to get rid of them.
Christian Home School Art Lessons
Artistic Design and the Great Designer
Art Lessons on The Elements and Principles of Design from
a Biblical Perspective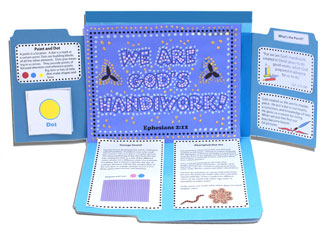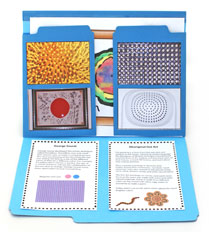 Fun art projects for all ages. The lessons are adaptable to all ages and abilities.

Biblical concepts that go along with each element of design.
Children learn artistic techniques, experiment with different artistic media, read books relating to each element, and learn about famous artists and art movements.
Each lesson comes with printable patterns that are displayed in a file folder that folds out to become an easel on which your children's art can be displayed.
Point and Dot - "What's the Point?"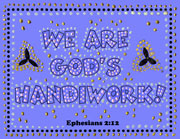 Bible Verse: "For we are God's workmanship, created in Christ Jesus to do good works, which God prepared in advance for us to do." Eph. 2:10
Teaching Concept: A point is a location, and a dot is a mark at a certain point. Dots are the building blocks of all the other elements. Dots give meaning to a canvas. They provide points of focused attention and reference points. When God created us he put a "dot" in our hearts, a conscious, and knowledge of him. He gives us a reason for living.
Artists and Artistic Techniques: Pointillism, George Seurat, and Aboriginal Dot Painting
Line - "Which Path do You Choose?"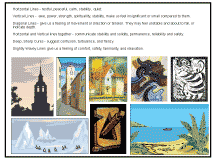 Bible Verse: "Give careful thought to the paths for your feet and be steadfast in all your ways." Pr. 4:26
Teaching Concept: A line is a path between two points.
Lines can have many different characteristics. They can be straight, curved, fat, or skinny. The Bible talks a lot about the paths we take, referring to the decisions we make and the consequences of those decisions. According to the Bible there are two paths we can pick; the right one and the wrong one. The right path leads to life, the wrong one lead to death.
Artists and Artistic Techniques: Wassily Kandinsky's crayon drawing, Paul Klee, symbolism in art, Aboriginal Artist Ronnie Tjampitjinpa's line and symbol paintings, illustrator and author Ed Emberley and thumbprint art, and illustrator author Patrick McDonnell
Shape - "It's Your Choice"
Bible Verse:"Choose you this day whom ye will serve . . . but as for me and my house, we will serve the Lord.: Joshua 24:15, KJV
Teaching Concept: You are a lot like an artist. Every choice an artist makes about the shapes on his canvas affects the outcome of his work. God has given you the freedom to choose how you will live your life. Every choice you make has consequences and determines how your life is shaped.
Artists and Artistic Techniques:
Jean Arp's Collage Arranged According to the Laws of Chance, organic and abstract shapes, Printmaking techniques - positive and negative shapes.
Color - "How Do You Feel?"
Bible Verse: "For we walk by faith, not by sight:" 2 Corinthians 5:7, KJV
Teaching Concept: People are very much affected by the colors and combinations of colors they see in a work of art. A good artist uses color and other elements and principles of design to create a piece that conveys his feelings and elicits strong emotions from the viewer.
As a Christian we are to walk by faith, not by what we see because what we see is not always what we can depend on. We live in the physical world, but must also consider the spiritual, the unseen world. Things may look bleak and out of control, but we can know that God is always in control when we put our faith in him.
Artists and Artistic Techniques:
Georgia O'Keefe, Claude Monet, Impressionism, and color theory.
Value - "Light or Dark?"
Bible Verses: "I am the light of the world: he that followeth me shall not walk in darkness, but shall have the light of life." (John 8:12)
Teaching Concept: The artist's use of value in an image can determine its success or failure. Value, the lightness or darkness of a color, is used to create a mood, focal points, and movement. Values can also be used in art to symbolize spiritual concepts. The Bible uses light and darkness to symbolize life and death. Like artists, we must decide what values are important. We must decide if we want to walk in darkness or follow Jesus and have the light of life. Our decisions will determine our success or failure.
Artists and Artistic Techniques: Rembrandt, chiaroscuro drawing, Identifying values using a grayscale ruler, high contrast and low contrast images, using dots for shading, and silhouettes.
©2012, Digital by Design, Inc. - See Copyright Information
Name Art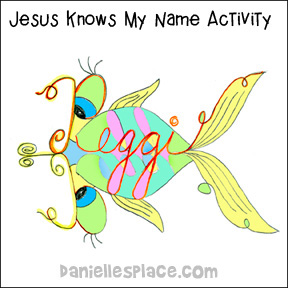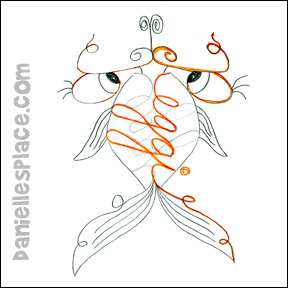 What you will need:
Paper
Pencil
Colored Pencil
How to make:
1. Fold a piece of paper in half, lengthwise.

2. Write a name in cursive with a pencil on the top half of the paper making sure that the bottom of the letters are on the line. Go over the name with the pencil so it is dark. Add extra loopes and curly-Q's to make the picture really interesting.
3. Fold the paper in half so the name is on the inside.
4. Rub over the area where the name is with your fingernail or a smooth object. The name transfers to the bottom half of the paper and overlaps the letter that go below the line.
5. Trace over the top and bottom names with a marker. Erase the pencil marks.
6. Decorate the names using different colors of makers or make them into bug, fish, or other creatures.
©2006, Digital by Design, Inc. - See Copyright Information
Doodle Creatures Craft for Kids
This is a great project to do when you can't think of anything to draw.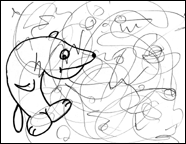 What you will need:
Paper
Pencil
Crayons
Imagination
How to make:
1. Scribble on a piece of paper with a pencil. Use lots of curves, circles, jagged lines, short lines, and long lines.
2. It takes a lot of imagination to find a picture in a bunch of scribbles. Stare at the scribbles you made. Look for some kind of shape to pop out at you. Try turning the page around to view it at different angles. View it from close up and far away. If you can't find anything after a couple of minutes, try adding some lines. If you still can't find anything, try a new scribble. This takes some practice. Once you find a creature you can add what ever you need to finish the creature. Don't forget to give your creature a name.
©2006, Digital by Design, Inc. - See Copyright Information