VBS Crafts - River Rafting Theme
How to Make Crafts and Activities for River VBS Theme
Crafts
River Otter Pencil Holder and with Bible Message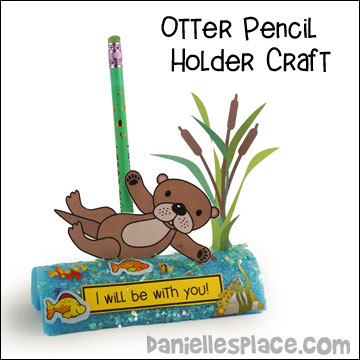 What you will need:
Bright Colored Cardstock and White Cardstock, Blue Pool Noodles, Fish Stickers or Foam Sea Creature Shapes, Iridescent Confetti (Optional), Pencils, Scissors, and Colored Pencils.
How to Make the River Otter Pencil Holders:
1. Print out the otter and cattail patterns onto white cardstock and cut them out. Print out the word labels onto colorful paper and cut them out.
Member's

Instant Digital Download

- Available in both black & white and color.
2. Cut pool noodles with a serrated knife into 5-inch lengths and then cut them in half lengthwise. Place the pool noodle pieces on a table so the flat sides are against the table and stick pencils down into the pool noodles so the pencils stand up. Cut slit in the top of the pool noodle where the otter and cattails should go.
3. In class have your children color the otter and cattail pattern if you are using the black and white pattern.
4.Then have them stick the cattail pattern and otter pattern into the slits on the pool noodle piece.
5. Have your children glue the labels to the front of the pool noodles and then stick fish stickers around the labels. To finish glue iridescent confetti to the pool noodles.
©2018, Digital by Design, Inc. - See Copyright Information
River Otter Paper Bag Puppets Holding a Bible Verse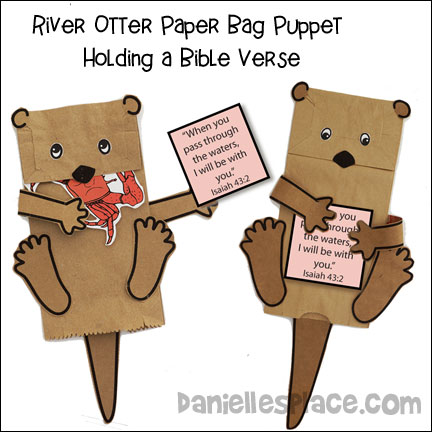 See the Otter Crafts Page for directions and printable patterns.
River Otter Paper Plate Bible Verse Holder Craft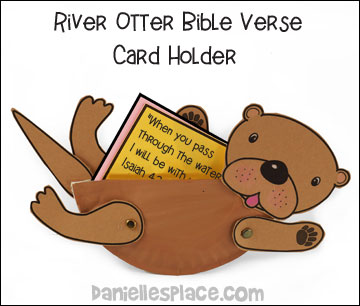 See the Otter Crafts Page for directions and printable patterns.
Painted River Rock Outreach Project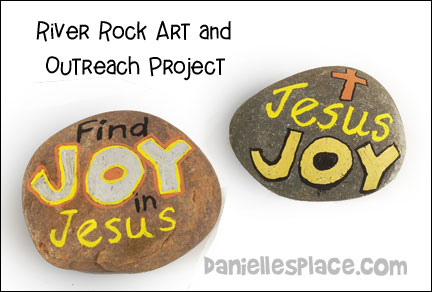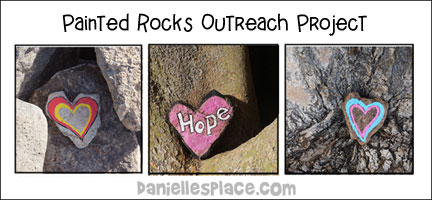 See the Nature Crafts Page for directions on how to make these.
When your children are done have them write the church name or web address on the back of the rocks. Encourage your children to share their rock creations by hiding them in places people might find them, or placing them near their front door. Make sure they know not to hide them where they might fall on someone or someone might trip on them.
Day 1 - Jesus Calls His Disciples (Matthew 4:18-25)
Day 2 - Jesus Accepts Mary And Martha (Luke 10:38-42)
See Martha and Mary Bible Crafts Page
Day 3 - Jesus Walks With Zacchaeus (Luke 19:1-10)