Christmas Stand-up, 3D Printable Nativity Craft
Nativity Scene Craft for Kids to Make. All you need is paper, colored pencils and glue!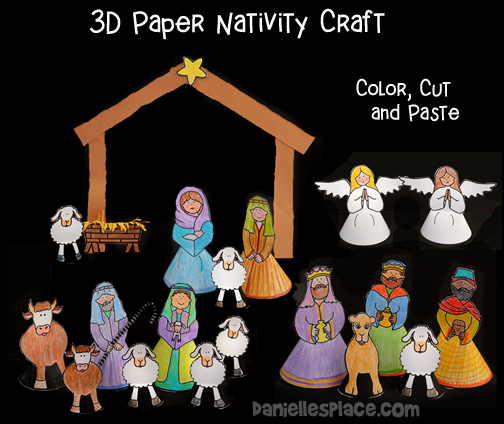 What you will need:
Card Stock (Heavy Paper)
Colored Pencils
Colored Paper
Pipe Cleaner
Tape or Glue
Printer
Scissors
How to make:
1. Print out the patterns onto card stock.
Member's

Instant Digital Download - $2.00 -

2. Color the figures and cut them out.
3. Cut along the back of the arms down to the elbows on each figure and then bring the sides around overlapping them in the back and tape them together. Do the same for the animals except cut down along the side of their bodies.
4. To make the shepherd cut a slit above and below his arm with and Exacto knife. Shape a half piece of pipe cleaner into a staff and insert it into the slits so it looks like he is holding the staff.
Copyright 2000, Digital by Design, Inc. - See Copyright Information
Christmas Crafts on Other Pages
Bible Christmas Crafts Page 1, Christmas Crafts Page 1, Christmas Crafts Page 2, Christmas Crafts Page 3, Christmas Crafts Page 4, Christmas Crafts Page 5, Christmas Crafts Page 6, Winter Crafts Page