Teaching Kids Through Crafts
Creative, Educational and Fun - All in One!

Educational crafts with how-to craft videos, DIY kids' crafts, games and STEM and STEAM activities designed to make teaching and learning fun. Bible-based crafts, and great resources for Sunday school teachers, children's ministry, preschool teachers, library programs, home school teachers, and special occasions.
DIY, Cheap and Easy Crafts for Your Children and Students!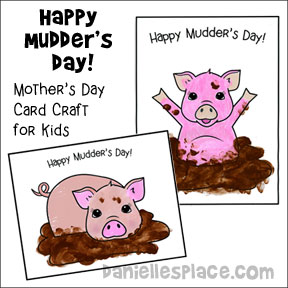 Happy Mudder's Day Pig Craft for Kids
Children color the pictures and then use brown finger paint to add the mud.
Printable patterns are available to members and as an instant download. Go to Mother's Day Page 4 Crafts Page.
Pool Noodle and Thumbtack Gears
Children use pool noodles and thumbtacks to experiment making their own gears. Make it a STEAM activity and have them design a picture to add to their gears.
Go to the Educational - Science Crafts and Activities Page for directions and more information about this craft.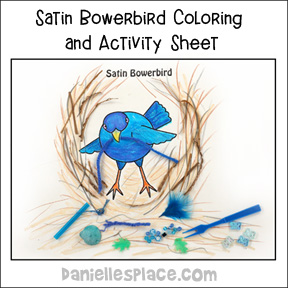 Bowerbird Coloring and Activity Sheet
After learning about bowerbirds children color the picture, build a bower using cardboard sticks, and search for objects a bowerbird might use to attract a female bird.
Go to Bird Crafts Page 2 for printable patterns and more STEAM activities for bowerbirds.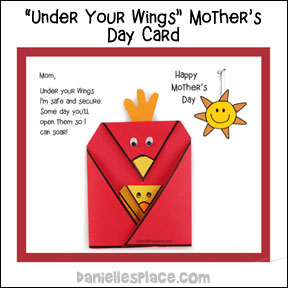 "Under Your Wings" Mother's Day Card Craft
Children glue an origami hen and chick to a poem page to make this Mother's Day card.
"Under Your Wings I'm safe and secure. Some day you'll open them so I can soar!
Go to Mother's Day Crafts Page 4 for patterns.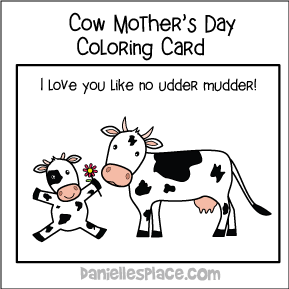 "I Love You Like No Udder Mudder" Mother's Day Card Craft
Children color the card and then write their names at the bottom. To finish glue the sheet to a piece of construction paper.
Go to Mother's Day Crafts Page 4 for patterns.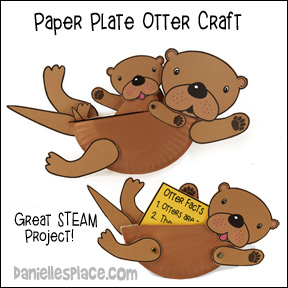 Mother Otter and Pup Paper Plate STEM and STEAM Activity
Children learn about otters and then color their otter to match pictures of otters and write otter facts on sheets of paper that can be stored in the other's stomach.
Go to the Otter Crafts Page for directions and more information about this craft.
New Bible Crafts for Your Children's Ministry and Sunday School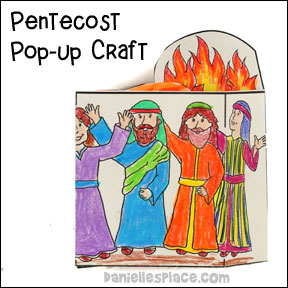 Peter Talks at Pentecost Popup Paper Craft
Children find out what Peter says at Pentecost and flames appear over the disciples' heads when they move the popup craft back and forth.
To get directions, a printable pattern, and see a video on how to make this craft go to the Pentecost Bible Crafts and Bible Games Page.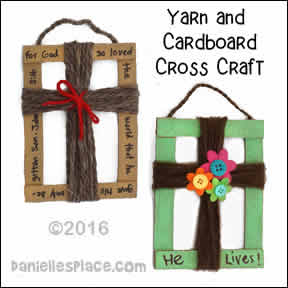 Cardboard and Yarn Cross Craft
Children make yarn crosses and then write their Bible verse around the edge of the frame. Costing less than ten cents each this craft can be used for just about any Bible lesson. It would also be great for VBS or as a gift for outreach programs!
Go to the Cross Crafts for Sunday School for directions.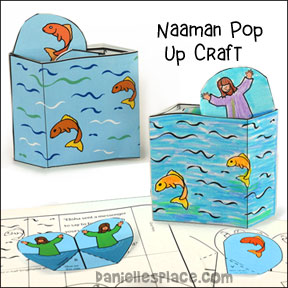 Naaman Washes in the Water Seven Times Popup Craft
Children will love acting out the Bible story of Naaman by making him wash seven times in the Jordan River by simply moving the Popup craft from left to right. A fish pop ups every time Naaman dips into the water to wash.
Go to the Naaman Bible Crafts Page for directions and more information about this craft.