Easter Crafts - Page 3
Easter Crafts for Sunday School and Children's Ministry
Jelly Bean Poem and Frame Easter Craft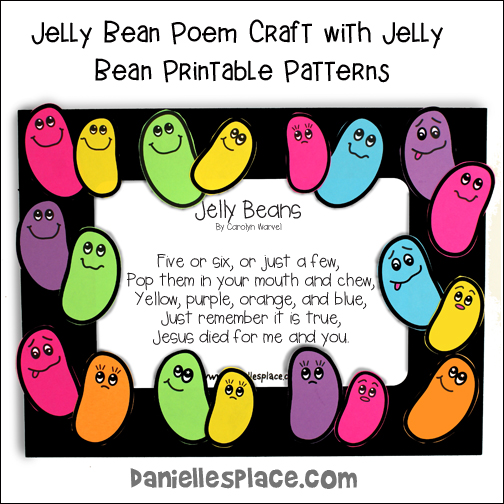 What you will need:
Color Paper or Printer that Prints in Color
Glue
Scissors
Construction Paper
How to Make the Jelly Bean Picture Frame:
1. Print out the poem pattern and cut it out, or print the following poem on a piece of paper.
Member's

Instant Digital Download $2.00 -


Jelly Beans
By Carolyn Warvel
Five or six, or just a few,
Pop them in your mouth and chew,
Yellow, purple, orange, and blue,
Just remember it is true,
Jesus died for me and you.
2. Glue the poem onto the center of a piece of construction paper.
3. Print out the jelly beans patterns. (Both a black and white and colored jelly bean patterns are available to Member's, above.) Print out the black and white pattern onto different colors of paper to save on expensive printer ink.
4. Cut out the jelly beans and glue them around the frame.
©2007, Digital by Design, Inc. - *See Copyright Information
Note - It is illegal to publish this poem on any other web site without permission, even if you include the author's name.
New Life Butterfly Foam Confetti Craft for Sunday School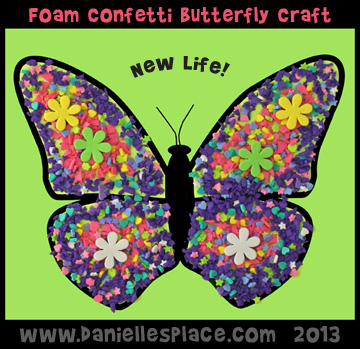 What you will need:
Craft Foam
Hole Punches of Different Shapes such as Stars, Hearts, Flowers, etc.
Colorful Cardstock
Craft Foam Shapes
How to Make the New Life Butterfly with Foam Confetti:
1. Draw or print out a picture of a butterfly onto colorful card stock (Heavy Paper), or use our butterfly pattern.
Member's


Instant Download - $2.00 for Printable Pattern Only -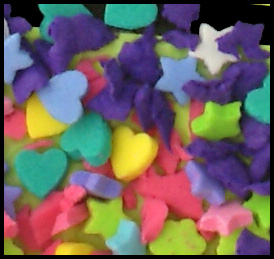 2. Make confetti out of the craft foam by using hole punches of different shapes or cut up scrap craft foam into tiny pieces.
3. Have your children place glue on the butterfly where they want the confetti to stick and then sprinkle the confetti over the glue.
4. To finish have your children glue foam flower shapes or other shapes on the butterfly.
©2013, Digital by Design, Inc. - *See Copyright Information
"New Life" Butterfly Picture for Easter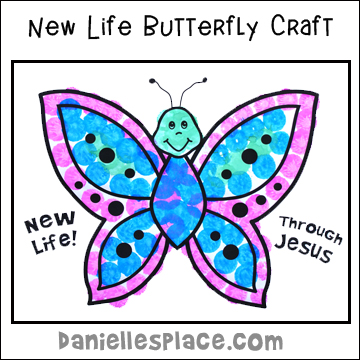 What you will need:
Printer Paper
Bingo Dotters
Glue
Stickers, Sequins, or other Decorative Items
How to Make the New Life Butterfly:
1. Before class print out a butterfly picture and make copies.
Member's

Instant Download - $2.00 for Printable Pattern Only -

2. In class have your children paint the butterflies using Bingo dotters or paint. When the paint is dry they may want to add sequins, stickers or other decorative items.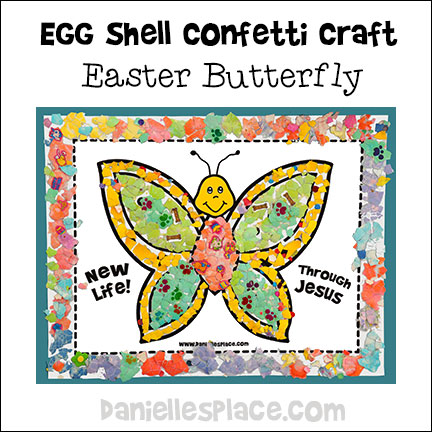 Easter egg shells make great confetti! Try to keep the shells as big as possible when peeling your eggs because it will make it easier to use the colored side of the eggs for the confetti. Dry the egg shells in a warm oven in a pie tin before using them. Place glue on the picture where you want the egg shell confetti, and then place the egg shell on the glue. If the confetti pieces are too big and hang over the lines, just press down on the shells with you finger nail to break off the extra pieces.
FREE Crayon Resist Hosanna Egg Coloring Sheet!
What you will need: Crayons and Water Color Paint
What to do:
1. Print out the pattern and make copies if your printer uses water soluble ink.
Get your Free Pattern Hoppy Easter Pattern!

Get your Free Hosanna Egg Pattern

2. Have your children draw patterns on the eggs with crayons and then paint over the crayon. The water paint will not stick to the crayon.
Bible Easter Crafts on Other Pages