Easter Bible Crafts Page 5
Bible Crafts and Games for Children's Ministry about Easter
Easter Symbol Eggs Coloring Craft for Children's Ministry
Use these paper Easter Eggs to decorate your bulletin board or hang them on a tree for a unique Easter decoration. As your children work, ask them what they think each symbol represents in the story of Easter.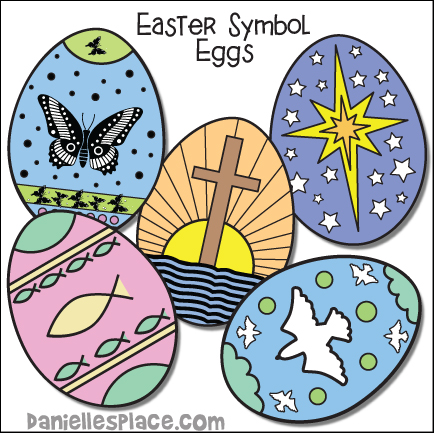 What you will need:
Paper
Scissors
Glitter Glue or Glitter Sticks
Crayons or Colored Pencils
Yarn (Optional)
How to make:
1. Print out the egg patterns onto white card stock and cut them out.
Member's

Instant Digital Download

2. Color the eggs with crayons or markers; accent them with glitter glue or glitter sticks.
3. Hang them on a tree with yarn or decorate a bulletin board for Easter.
The Parable of the Lily
Blooming Paper Flower Craft
This simple will amaze your students as they watch their paper flowers open and reveal a message inside. Children fold up the petals of the paper flowers and place the flowers in a bowl of water. After a few seconds, the flower will start to open.
Member's

Watch the video below to see a paper flower in a bowl of water bloom and reveal an important Easter message.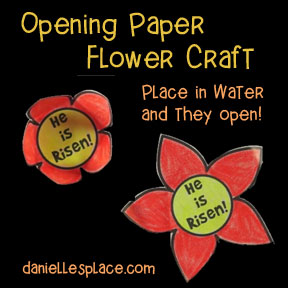 Beginning this summer, our kindergarten class will use your site, too. Those teachers have seen your material that I'm using and are very excited. Thanks again for all you hard work and great ideas. Your ideas for presenting the Bible lessons are as good as your crafts and games! God bless you and keep your ideas flowing! Cheryl Blansett - 03/15/2010
15+ Easter Bible Games For Children's Ministry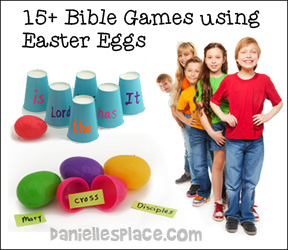 All the games are easy to prepare and use only plastic Easter eggs and other easy-to-find supplies such as markers and paper.
These games can be adapted to any Bible lesson to review the lesson, and help memorize the Bible verse.
Children of all ages will love these games! Go to the Easter Game Page to view them.
Easter Bible Crafts on Other Pages