Bible Crafts and Activities for
Kids - P
The Parable Crafts and Activities: Parable of the Lost Coin Sunday School Lesson and Crafts, Parable of the Great Banquet Sunday School Crafts and Activities, Parable of the Sheep and Goats
Parable of the Lost Coin Purse or Pouch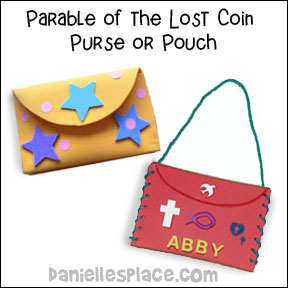 Make a purse or pouch out of fun foam sheets.
Have your children decorate them with fun foam stickers.
Punch holes in the sides and have them lace yarn through the holes. Have the boys make pouches they can wear on their belts. Just add loops to the back of the pouch.
Patterns for this craft is available to members on The Resource Room.
"Women Searching For Coin" Activity Sheet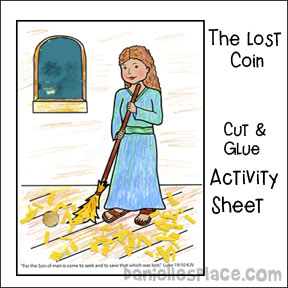 Make Coin Rubbings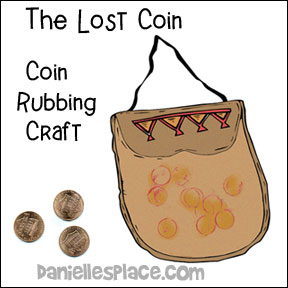 Tape coins to the back of the paper with a picture of a purse on it. Show your children how to make crayon rubbings of the coins. Tell them to make nine rubbing inside the purse and one outside to represent the lost coin.
A pattern for this craft is available on The Resource Room.
Parable of the Lost Coin on The Resource Room - A complete lesson for this theme is available on The Resource Room.
"The Lost Coin" Shoe Box Diorama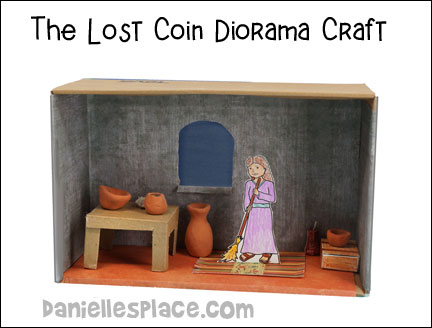 What you will need:
Shoe Box, Small Boxes, Model Magic, Scrapbooking Paper with Natural Designs, Cardstock, Scissors, Ruler, Glue, and Colored Pencils.
How to Make the Diorama:
1. Before class print out the woman sweeping and the window pattern. (Patterns available to members.)
2. In class have your children use the window pattern to cut a window into the shoe box.
3. Have your children cover the inside of the box with scrapbooking paper, cutting a hole for the window. Use scraps of fabric or scrapbooking paper to make a rug.
4. Color the picture of the woman and fold up the bottom so it stands up. Place it in the box.
5. Make pots and baskets out of brown model magic clay.
6. Cut a table from a small box.
7. To finish cut a small circle from paper to represent the coin. Have your children hide it in the diorama room.
©2016, Digital by Design, Inc. -* See Copyright Information
Activities for the Parable of the Lost Coin
Play Hide and Seek with Chocolate Coins
Let your children take turns hiding a coin and having the other children try to find it. The child who finds the coin gets to keep it if he says the Bible verse. Keep playing until all the children have found a coin.
Look for a Lost Coin
Hide enough coins in your room so that each child will be able to find one. On the word go tell your children to go and find only one coin and then go and sit down. If a child can't find a coin, ask the class to help him.
Prayer Coins
Give each child ten chocolate coins. Have them think about people they might pray for and talk to about Jesus this week. Write the names of the people they think of on the coins with a permanent marker. Tell them that when they eat one they should pray for the person whose name is on the coins.
Bible Verse Review Game
Write the Bible verse on some chocolate coins, one word per coin. (You can use circles cut from shiny paper if you don't have the chocolate coins.) Make at least three sets. Have your children play three at a time. Review the Bible verse and write in on the board. If you have younger children use only a few words of the verse at a time. Have your children mix up the coin and on the word go see who can place the coins in order first. Keep playing until all the children have had a chance to play. You can also have the children play in groups.
Ideas from Subscribers
This week in Sunday school class (age up to 6) we learned about the Parable of the Lost Coin. As an introduction to the lesson, I had hidden ten silver coins around the classroom. I hid them rather hard so that it would take a while for the children to find them. I hid the last coin really hard. After the first nine were found, I gave the children a few hints on how to find the 'lost coin". When the coin was found, the children were so very proud of their accomplishment that they burst out with exciting squeals of joy. We then went into our discussion on the parable. We talked about how the lady in the parable searched for her lost coin, but could not find it. After searching for a while, she lit a lamp and searched some more. Still not finding it, she got a broom and began to sweep. She swept and swept and upon finding the coin she rejoiced. She even called her friends and neighbors and asked them to rejoice with her for her lost coin is now found, kind of like when we found our 'lost coin" and it made us so happy.
We then discussed the Lord's search for the lost and how we can be used to witness to those who do not know the Lord in what we say, what we do, and how we act. We must be diligent in living our lives for the Lord, and being set apart from the world, as the lady in the parable was to find her lost coin. And when a lost person sees this difference in us, they will eventually ask why we are different, opening the door for us to lead them to Jesus. Then, all the angels in heaven can rejoice over the one lost soul who repents of their sins. For our craft, we made a craft stick puppet of the lady from the parable holding a money bag in one hand the lost coin, which she found in the other. Theresa
©2007, Digital by Design, Inc. -* See Copyright Information
Songs for the Parable of the Lost Coin for Sunday School
Ten Little Coins
Written by Carolyn Warvel
Sing to the tune of "Mary Had a Little Lamb"
A woman had ten little coins,
Little coins, little coins,
A women had ten little coins,
but lost one on the ground.
She got a broom and swept the floor
Swept the floor, swept the floor,
She got a broom and swept the floor,
until the coin was found.
Then she called to all her friends,
all her friends, all her friends
Come and see what I have found
What was lost has been found.
Jesus Came to Seek and Save
Written by Carolyn Warvel
Sing to the tune of "Mary Had a Little Lamb"
Jesus came to seek and save,
Seek and save, seek and save,
Jesus came to seek and save,
All those that have been lost.
Jesus came to seek and save,
Seek and save, seek and save,
Jesus came to seek and save,
Luke, Chapter Nineteen, Ten.
©2009, Digital by Design, Inc. -* See Copyright Information
The Parable of the Great Banquet Sunday School Crafts and Activities
Scripture Reference: Luke 14:12-24
This week I did a lesson on the Parable of the Great Banquet in my Sunday school class (ages up to 6). To set the mood for the lesson, I told the children that we were going to have a party and that I had invited several very special guests to attend (holding up their RSVP's to their invitations). However, due to the fact that I didn't have a chance to decorate for the party, I needed the children to help decorate the room. This really excited the children. I assigned each child something to do: Hang up balloons, hang up crepe paper, spread the tablecloth and put out plates, napkins, etc. During the whole time of decorating, I kept reminding the children that we really wanted the room to look nice for our special guests who had been invited.
After the children were satisfied with the decorations, we sat down to look at our RSVP's to see who all was coming to our party. To our dismay, just as in the parable, each and every person who had been invited to our party made an excuse not to come. The children were very disappointed, just like the banquet host in the parable, but when they found out that we were still going to have the party, it lifted their spirits. I served miniature cupcakes, chips and juice boxes, and while the children ate I spoke to them about the true meaning of the parable.
For our craft, we made goody bags to carry home our party prizes. I printed a pretty border with ribbons and bows on one side of a sheet of card stock. We folded the paper in half, cut out a handle at the top for carrying and stapled it on the bottom and the open side. The kids really understood the meaning of the parable and enjoyed all the prizes that they carried home. Sent by Theresa Bostick
©2009, Digital by Design, Inc. -* See Copyright Information
The Parable of the Lost Sheep Sunday School Lesson
Parable of the Prodigal Son Sunday School Lesson
Free Preschool Sunday School Lesson - The Big Mistake
The Parable of the Sower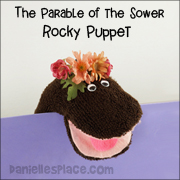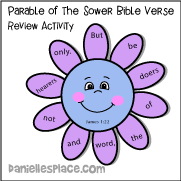 Flower Bible Verse Review Activity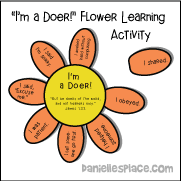 "I'm a Doer" Flower Learning Activity
The Parable of the Sheep and Goats
"Are You a Sheep or Goat? Sunday school lesson. Go to the G -Bible Crafts and Activities for Children Page under Giving.
The Parable to the Talents
Don't Be Slothful! Printable Itty Bitty Book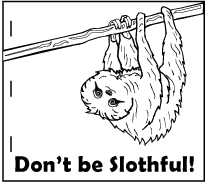 This book contain scriptures with corresponding pictures to help children learn about good stewardship in every aspect of their lives.
"And whatsoever ye do, do it heartily, as to the Lord, and not unto men;" Colossians 3:23
"All scripture is given by inspiration of God, and is profitable for doctrine, for reproof, for correction, for instruction in righteousness: That the man of God may be perfect, thoroughly furnished unto all good works. 2 Tim. 3:16-17
"The effectual fervent prayer of a righteous man availeth much." James 5:16b
"Whether therefore ye eat, or drink, or whatsoever ye do, do all to the glory of God." 1 Corn. 10:31
"Be kindly affectioned one to another with brotherly love; in honour preferring one another; Not slothful in business; fervent in spirit; serving the Lord;" Romans 12:10-11
"Study to shew thyself approved unto God, a workman that needeth not to be ashamed,
rightly dividing the word of truth." 2 Tim. 2:15
"And whatsoever ye do, do it heartily, as to the Lord, and not unto men;" Colossians 3:23
This book is available to members only.
©2012, Digital by Design, Inc. -* See Copyright Information
See Apostle Paul Bible Crafts and Learning Activities Page
Peace
Dove Peace Sunday School Craft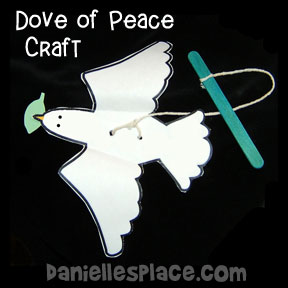 What you will need:
White Construction Paper
Green Construction Paper
Scotch tape
Wooden Craft Sticks
String
Glue or Tape
How to make the dove craft:
1. Print out the dove pattern (Available to Members Only) and use it to cut dove shapes from white construction paper. Cut two for each child.
2. Glue the dove together except for the beaks.
3. Place a piece of Scotch tape over the circles in the middle of the dove. Use a hole punch to punch holes through the tape and the circles. Thread string through the holes. Tie the string at the end and then tie the other end to a craft stick.
4. Cut leaf shapes to fit in the dove's mouth.
Pentecost Crafts and Games
Pharisees Crafts and Games
Praise
Praise Sunday School Crafts and Activities
See Bible Themes Praise and "Sing to the Lord"
Prayer
Bible Crafts and Activities about Prayer
See the Prayer Bible Crafts and Activities Page
Psalm 23 - Bible Lessons for Children
Each verse of the Twenty-third Psalm is broken down into one lesson. Each lesson contains crafts and activities that reinforce the Bible verse.
Psalm 23:1 - "I Shall Not Want" Sheep Picture
Psalm 23:2 - "He Makes Me Lie Down in Green Pastures"
Psalm 23:3 - "He Leads Me" Sunday Day School Lesson
Psalm 23:4 - "I Will Fear No Evil" Bible Lesson for Kids
Psalm 23:5 - "I am Special" Bible Lesson
Psalm 23:6 - "Goodness and Mercy" Lesson
Purpose - God's Purpose for Our Lives
Purpose/Potential Object Lesson for Sunday School
Purpose of Lesson: To focus on our potential in Christ. We will never reach our fullness apart from Christ
Life is Like a Cupcake - This object lesson can be done for any age group or an entire church. I like church picnics or covered dish meals and this is a wonderful lesson that the entire group can join in and have desert too. Sue Karber
Take a paper cupcake liner and tell everyone that this represents our body. It is the shell that holds the real "us" together in body form. Now put in some cake batter and say, "This is God's potential put in each one of us. Some of us have more than others, but we all have potential. God knew us before the world was even formed and also in our mother's womb. He gave us the potential we need to fulfill His Good Works. Potential is not what we are, but what we are capable of becoming. Potential has to be developed. Left to ourselves we will either become half baked, burn up in the process and self-destruct, or never develop at all.
Accepting Jesus as our LORD and Savior will develop our potential. Jesus will keep us growing and developing by withstanding the HEAT of the world and maturing in Christ.
I make sure every child hears the plan of salvation and that salvation brings forgiveness of sin. We are born again through Christ. The Holy Spirit now guides our development which leads to the frosting on the cupcake. . .
The frosting is studying God's word, praise, and worship. This leads to our development of service which we can't help but do. We are frosting and others see the beauty and love of Jesus and want to have what we have and we just have to share. This area is so much fun because each child or person needs to see that the wrinkles of the frosting are different on each cupcake. Some of us are teachers, some have the gift of mercy etc. And even with in our gifts and service areas we are special and unique and God does not compare us with others.
Then the sprinkles; the jewels in our crowns in heaven. The kids go wild here. They see where their uniqueness and ministry is needed and useful at even the 1st grade level. They see their purpose in the body of Christ. This is even true of adults. I use different scriptures according to lesson plans for that week.
Frosting brings the fruits and the fullness of Christ into our lives and even a child has purpose and a mission. Sprinkles the rewards, now and later
Thanks for sharing this with us, Sue
©2007, Digital by Design, Inc. -* See Copyright Information