Winter Crafts Page
Winter Crafts and Activities for Children
Build a Snowman Game and Craft
"Let it Snow!" Winter Luminary Craft
What you will need: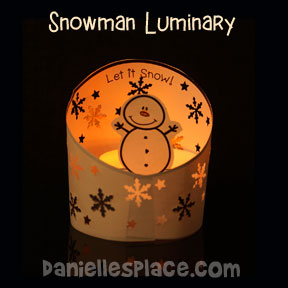 White Paper
Tape or Glue
What to do:
1. Print out the luminary pattern and snowman pattern onto white paper and cut them out.
2. Glue or tape the luminary together to form a tube. Glue the snowman pattern into a circle that fits around a tealight.
Member's

Instant Digital Download

3. Use a snowflake punch to punch snowflake shapes all over the luminary. Glue on snowflake sequins.
4. To finish place a tealight in the circle of the snowman circle. Place the snowman and tealight in the center of the luminary.
Rock Snowman Craft and Game
Children practice their balancing skills in this fun creative game. Players roll a die to see which snowman part they collect and then race to be the first player to build a complete rock snowman that will stand on its own.
Use the snowman rocks as a fun winter activity. Place the painted rocks on your stoop and encourage your friends to build their own crazy snowman or challenge your friends to build the tallest snowman they can.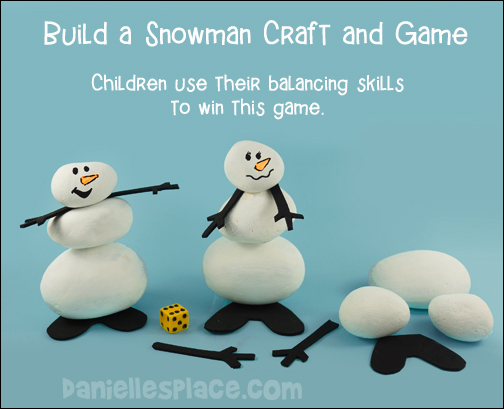 Use these adorable snowmen to play educational games or as fun learning and creative activity.
What you will need:
Smooth Round River Rocks in Three Different Sizes - Use double the amount of set of rocks to make snowmen as the amount of people playing the game. For example, if you have two players, use four sets of rocks. You can buy river rocks at your local garden shop.
Paint Markers or Permanent Markers
A Die
Brown or Black Craft Foam
How to Make the Snowman Game and Rock Craft:
Paint the river rocks white with acrylic paint. Use paint markers or permanent markers to draw on the face features. Cut boot shapes and stick arms from craft foam.
Object of the Game
The object of the game is to be the first player to make a complete snowman that stands on its.
Preparation:
Place the small, medium and large rocks in piles in the middle of the table. Place the craft foam boots and stick arms next to the rocks.
How to Play the Build a Snowman Game:
1. Players take turns rolling the die and doing one of the following activities:
Roll 1 Dot - Player selects a large rock.
Roll 2 Dots - Player selects a medium rock.
Roll 3 Dots - Player selects small head rock.
Roll 4 Dots - Player selects two stick arms.
Roll 5 Dots - Player selects two boots.
Roll 6 Dots - Player can exchange one item for another or pick any item he doesn't already have.
2. If a player rolls a number that corresponds to an item they already have, the player may exchange the item for a different one. For example, if the player rolls a two, he can exchange his medium rock for a different medium rock. Players may try to get their snowmen to stand up as they work on collecting all the items needed.
3. Once a player has everything he needs to complete his snowman, the other players can keep rolling the die until they collect all their items. If the first player cannot get his snowman to stand up on its own, another player still has a chance to win by rolling all he needs and getting his snowman to stand up on its own. If the first player can't get his snowman to stand up, he can start rolling the die again to try to get different rocks to use to replace the ones that don't work.
Snowman Building Activity
Place all the rocks, feet and arms on your patio, stoop or coffee table and encourage your children and their friends to practice making snowmen by balancing the rocks on top of each other.