Vacation Bible School (VBS) Crafts and Activities Page
Outback and Australian Craft Ideas
Great Crafts for Any VBS
Watch a video on how to make the folding craft stick canvases.
Creator - Fish Craft
King - Foil Crown Craft
Nature of God Posters
Jungle Decorations and Games
Ocean and Water Craft Ideas from this Site
Love is . . . "Floatsam" Folding Craft Stick Craft or Plaque Craft
Paper Treasure Chest Craft
Love Is . . . Paper Plate Craft, Game, and Learning Activity
Craft Suggestions from this site:
Agency D3 VBS
Grades - First - 6th, Uses HCSB Translation - Includes a take-home CD to minister to families - Seems like it is designed more for older children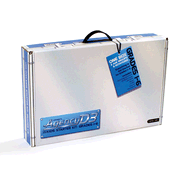 Agency D3: Discover Decide Defend, the 2014 VBS from Lifeway.
Bible Theme: But honor the Messiah as Lord in your hearts. Always be ready to give a defense to anyone who asks you for a reason for the hope that is in you. (1 Peter 3:15)
Bible Translation: Holman Christian Standard Bible (HCSB)
Ages: Grade 1 to Grade 6 (ages 6-12);
Agency D3 is an organization comprised of highly skilled operatives - the best of the best - dedicated to discovering, deciding and defending the truth of Jesus. Cadets are trained to answer the most important question, "Who is Jesus?" They'll use evidence kits to follow eyewitness reports, physical proof, and biblical accounts to collect and log evidence about Jesus. Prepare your agents for adventure and intrigue with gadgets, maps, activity training grounds, communications, and snacks while investigating 1 Peter 3:15.
Bible Content (Evidence / Scripture Verses):
Day 1: Is Jesus Really God's Son? (An Eyewitness Report - Matthew 3:13-17; John 1:29-36)Day 2: Was Jesus More Than Just a Good Man? (Background Check - Mark 6:1-6, 30-56)Day 3: Was Jesus' Death Real? (Death Confirmed -Mark 14:22-28; 15:22-47)Day 4: Is Jesus Alive? (Physical Proof - Luke 24:1-48)Day 5: What Do I Do with the Evidence About Jesus? (Summing Up the Evidence - Acts 2:14-42; 1 Peter 3:15)
Craft Ideas from this site:
Craft Ideas for Any VBS

The craft sticks are taped together so that when the craft sticks are pushed together from the top and bottom of the stack they fan fold up into a compact stack of sticks for storage. This craft is great to use as a memorization tool. Children can test themselves by unfolding one section at a time to reveal the next part of the verse.
What you will need:
Woodsies Mini Jumbo Craft Sticks -4.5" 50/Pkg
- Use good quality craft sticks that lay flat. The 5/8" work perfect with the one-inch tape.
*You can use the Woodsies Jumbo Craft Sticks
with the 1.5 Inch - 3M Scotch Masking Tape
for a bigger Canvas.
3M Scotch Masking Tape, 1-Inch
- Other brands will work, but this tape works great! It is the exact color of the craft sticks. (Staple's Tape works better with the washable markers, but it is lighter than the stick and more transparent and doesn't cover the stick as well.)
Permanent Markers, crayons, or colored pencils - (The washable markers don't work well because the smear.)
How to Make the Folding Craft Stick Canvas:
1. Cut the one-inch masking into 4-inch pieces.
3. Turn the2. Place two sticks together, side by side, and tape them together covering both the sticks with the tape. two sticks over so that they are diaganal to you.
4. Place another craft stick next to and below the two sticks that you taped together. Use another piece of tape to tape the bottom two sticks together.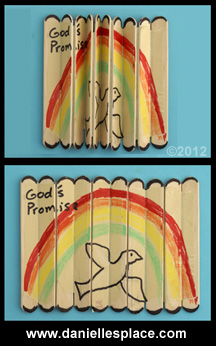 5. Turn all three sticks over diagonally and place another stick at the bottom of the row and tape the last two sticks together. Keep going until you have a whole row of sticks.
Children can use permanment markers, pens, or colored pencils to write the Bible verse on the sticks and then decorate them. They can also draw a picture on the back of the sticks that represents the Bible verse or the Bible story.
If a child messes up while working on his canvas, you can pull off the tape where he messed up and replace it with new tape.
These folding craft stick canvases can also be used for other purposes. You can also be used to make greeting cards for Mother's Day, Father's Day or Birthdays.
How to Print or Copy these Instructions.
©2012, Digital by Design, Inc. - See Copyright Information -- Bloggers, if you use this craft idea or an adaptation, and link back to this page for the complete directions, let us know and we will put a link to your blog..
The sticks can be reused by just pulling off the tape and placing new tape over the sticks.
Watch a video on how to make the folding craft stick canvas.
Craft Stick Fish Craft
Handling Craft Projects
Hand out a brown paper bag and small paper plate for each project. The children should put their names on both before they start their craft. The paper plate keeps you from having to clean paint off the table and off your hands when the children are done with their projects. You just pick up the paper plate with their projects on them and move them to a table to dry without having to touch the wet project. When the project dries stick them in the paper bag to store. (We kept all the projects until the last day) They were then taken to the children's rooms. After our closing program the children took their parents to meet their teachers and pick up their projects. This was a good incentive to get the children and parents to come back.
How to Print or Copy these instructions
Here is a great way for your students to memorize Bible verses. This origami cross can be folded over and over changing shapes and showing a different part of the Bible verse each time. Your children will find that it is hard to stop using them once they start. Memory Cross offers Bible verses that go along with many of the most popular Vacation Bible School programs. They have one for the plan of salvation which would be a great witnessing tool for your VBS. They also have many other Bible verse packages you can pick from. If they don't have what you want, you can custom order them. Or you can order blank ones and have your children make their own. (See the pictures below.) Go to Memory Cross to order yours today!
Great Craft for any VBS Program!
This origami craft is fun to play with and educational at the same time. It is designed so that each time it is folded it shows another picture or part of a Bible verse and then keeps repeating over and over. The Memory Cross will help your children remember their Bible verses as they play. They can be used with any VBS program. Children of all ages will enjoy designing their own Memory Crosses. The small Memory Crosses cost 40 cents each and the 7" x 7" cost 50 cents each. Go to Memory Cross web site to order yours today!
VBS Crafts and Activity Ideas
Western Theme VBS
Egypt Theme
Safari Theme